ICPEPT 2022 will be be held in Changchun, China, from August 19-21,2022. For further information about the hotel, please find the below.


Changchun International Convention and Exhibition Center Grand Hotel
Ⅰ. Information:
Hotel website: Click
Tel:+86-13922153442
Address: No.100, Exhibition Street, Economic Development Zone, Nanguan District, Changchun City, Jilin Province
Ⅱ.Direction:
*Changchun Longjia International Airport: 36km, about 34mins
*Changchun station: 17km, about 27mins
*Changchun West Railway Station: 20km, about 39mins
Ⅲ .Tips:
For non-Chinese Attendees, "Bring me to the hotel" card is available. You can show it to the taxi drivers and they will take you to the hotel.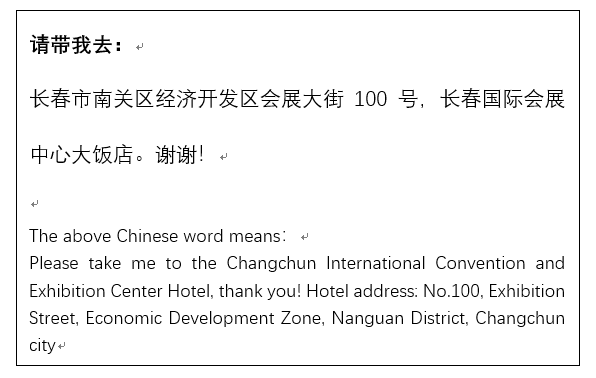 About Changchun
Changchun is a film city, motor city, cultural city, Changchun and the last emperor's pseudo palace. The four seasons in Changchun are bright, and the changes of the four seasons can be deeply felt in Changchun. It is a famous city of science, education and culture. Its scientific research in optics, precision instruments, laser technology, polymer materials, biological products, superconductivity, automobiles and other fields is at the leading level in China. It is one of the intellectually intensive cities in China.